Serbatoi a pressione in acciaio inox
Behälter KG offers series-produced pressure vessels made of stainless steel. For sizes from 100 liters to 1000 liters, we offer most pressure vessels immediately available from stock. Up to 3000 liters, all pressure vessels have a type examination and therefore do not have to be approved individually by the TÜV. Starting from 4000 liters, an individual TÜV approval is required, the corresponding costs are added on top of the list price. From 1500 liters upwards, you can usually expect a delivery time of around 6 - 8 weeks (please contact us if urgent).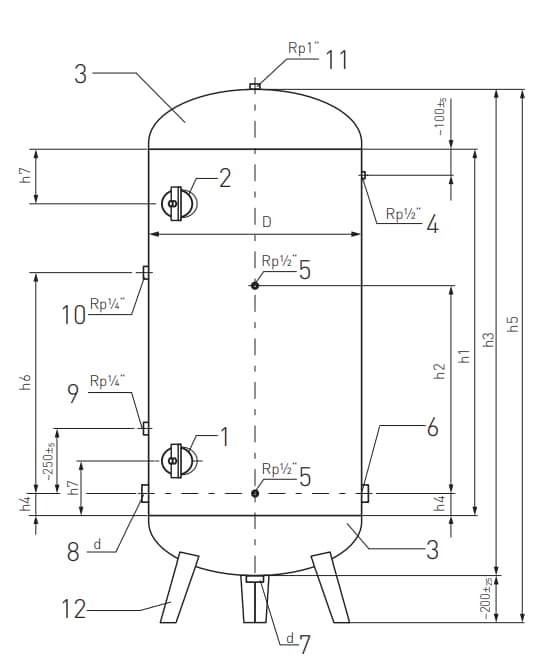 Pressure vessels ranging from 100 - 10000 liter, equipped with 2 crane eyes on the top bottom
go to price list (updated on: 11.01.2021)
Hand hole or manhole closures attached at ~ 45 ° to the vessel axis
Second hand hole closure only for vessels with a nominal volume of 1000-3000 liters, alternatively 1 manhole closure for 1500-3000 liters
Vessel bottom according to DIN 28013 (alternatively according to DIN 28011)
Connection for pressure regulator
Connections for water level meters
Connection for pump
Connection for emptying the vessel, alternatively for standard line or supply line
Connection for standard line or supply line
Connection for ventilation device
Connection for ventilation device
Reserve connection
3 press legs =<3000 Ltr., 3 tube legs >=4000 Ltr.
ATTENTION!
Due to the current shortage on the raw material market for stainless steel, the prices are no longer valid. If required, we will be happy to make you an offer with current daily prices.
Please contact us!
Volume (liter)
Article number
D
d
h1
h2
h3
h4
h5
h6
h7
Hand-/manhole
Weight in Kg
Price ex works
6 bar
10 bar
Amount
Size
6 bar
10 bar
6 bar
10 bar
100
10365
10380
350
Rp 2''
940
500
1100
85
1330
500
210
1
100x150
31
33
150
10366
10381
450
Rp 2''
790
500
1010
85
1230
500
210
1
100x150
35
36
300
10367
10382
550
Rp 2''
1100
700
1360
85
1570
675
210
1
100x150
53
55
500
10368
10383
650
Rp 2''
1310
700
1610
85
1810
800
210
1
100x150
69
87
750
10369
10384
800
Rp 2''
1250
700
1700
85
1885
800
210
1
100x150
91
130
1000
10370
10385
800
Rp 2''
1700
1000
2150
85
2335
1050
210
2
100x150
116
165
1500
10371
10386
1000
Rp 3''
1500
1000
2050
120
2235
1000
300
2
100x150
184
272
2000
10372
10387
1100
Rp 3''
1700
1000
2310
120
2495
1125
300
2
100x150
226
339
3000
10373
10388
1150
Rp 3''
2500
1000
3130
120
3305
1500
300
2
100x150
331
483
4000
10374
10389
1400
Rp 3''
2000
1000
2780
120
2980
1390
300
1
320x420
562
803
5000
10375
10390
1500
Rp 3''
2250
1000
3060
120
3260
1550
300
1
320x420
672
955
6000
10376
10391
1500
Rp 3''
2750
1000
3560
120
3760
1825
300
1
320x420
749
1077
7000
10377
10392
1600
Rp 3''
2750
1000
3650
120
3860
1875
300
1
320x420
964
1206
8000
10378
10393
1600
Rp 3''
3250
1000
4150
120
4350
2125
300
1
320x420
1062
1323
10000
10379
10394
1600
Rp 3''
4500
1000
5400
120
5600
2625
300
1
320x420
1259
1559
suitable media: drinking water
material: stainless steel, AISI 316 Ti (1.4571) or similar
surface protection: pickled and passivated
operating temperature: 0 - 50 °C
documentation: CE, until 3.000 l type tested
test basis: DGRL 97/23 EG
specification: AD 2000