FIT Storemix: Serbatoi di miscelazione termocondizionati
La serie FIT Storemix unisce l'eleganza al suo design robusto. Progettato per pesi specifici fino a 1,3 Kg /Ltr e dotato di una flangia per il montaggio dell'agitatore del tipo igienico, fornisce a primo impatto, mediante la superficie liscia a specchio del serbatoio, un'impressione davvero stupefacente. Il fondo ed il corpo cilindrico sono termocondizionati ( per il riscaldamento o il raffreddamento ) mediante due sezioni separate. Siamo in grado di offrire agitatori di diverse dimensioni direttamente dal nostro magazzino.
Overview FIT-Storemix
Cylinder and lower bottom double walled
Heating-/cooling jacket: +2 bar (80 ° C)
Documentation & EC-declaration
Height adjustable legs
Robust design, entirely made of stainless steel
Solid agitator flange in hygienic design
Simple cleaning due to mirror-like surface (BA)
Optional: hermetically welded insulation / tank in AISI 316 / grinded welds
The FIT-Storemix can be used as storage or mixing tank for almost all industries. The solid construction ensures a long service life. We offer optional stirring technology "made in Germany" for all stirring tasks. The assembly and operating instructions are provided by us for every tank. Proven Behälter KG quality since 1965.
Optimally dimensioned, optionally equipped with stirring technology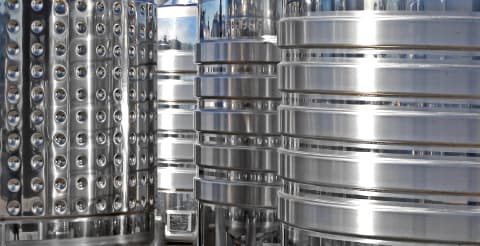 Double jacket designed as a thermoplate or half-pipe coil
How is the heating / cooling jacket operated?
The FIT-Storemix has two separate circuits for tempering your medium. This includes the thermoplate jacket on the lower bottom of the tank, which ensures that your product is optimally temperature-controlled in the area of ​​the outlet. The cylindrical part of the tank can be heated / cooled separately, with a rectangular half-pipe coil or also with a thermoplate system (depending on the tank version). Both heating circuits are equipped with Ø 1 inch connections for the inlet and outlet of the temperature control medium. The FIT-Storemix is ​​designed for cooling with ice water or glycol or for heating with warm water or thermal oil (80 °C). For higher temperatures or heating with steam, kindly reach out to our sales department to discuss the suitability for your area of application.
What agitator technology can be installed on the FIT-Storemix?
We offer a wide selection of agitators for all common stirring tasks and viscosity levels. We usually have the following agitator types available from stock for the FIT-Storemix:
High-speed propeller agitator: With the high-speed propeller agitator, aqueous media can be mixed turbulently. The speed ranges up to 1500 rpm. Inexpensive design, since no geared motor is required.
Slow-running propeller agitator: With a slow-running propeller agitator, low-viscosity media can be gently homogenized, e.g. dairy products. The lower speed is made possible by a high quality geared motor.
Blade agitator: With the blade agitator, low-viscosity but also more viscous media can be mixed efficiently and gently, at a speed of approx. 60 rpm. The two eccentrically positioned blade elements ensure a high peripheral speed due to the large diameter.
All our agitators are equipped with PTC thermistors and can therefore also be operated with a frequency converter.
Do you need a different mixer? No problem, just contact our sales department to request a customer-specific solution.
Note: the representation of the stirring elements was photographed in a different container type (the bottom of the FIT container has no bead).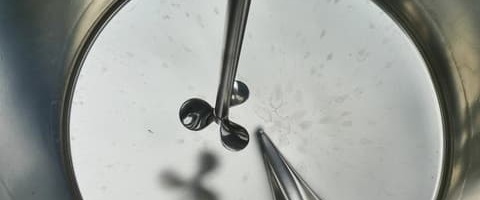 High-speed propeller agitator
Slow-running propeller agitator
Blade agitator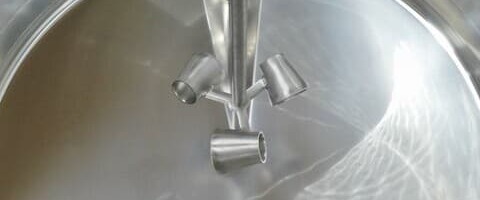 Cup stirrer
Dissolver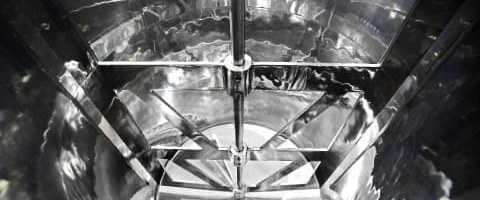 Anchor agitator (requires custom-made containers)
Can the tank also be operated without an agitator?
The FIT-Storemix is an optimal choice also without agitator technology. It can be used as as storage tank, heating tank, cooling tank or buffer tank - reliably up to specific weights of 1.3 Kg/Liter. Due to the solid agitator flange on the top bottom, an agitator can be retrofitted anytime – a wide selection of prefabricated agitators with versatile agitator technology can be obtained from Behälter KG.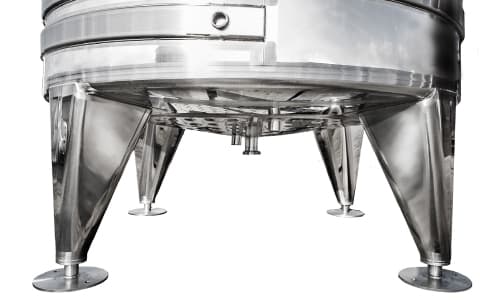 Excellent as a storage tank, even without stirring technology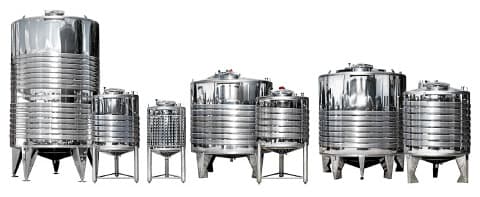 FIT store mix overview - custom-made products are also possible!
Additional useful remarks regarding the FIT-Storemix
Quality promise: With the FIT-Storemix, you choose a high-quality product that we have been supplying to leading production companies across all industries for over 20 years
Customization: We offer custom-made versions of our FIT-Storemix series, you can choose the desired measurements and technical characteristics
Modular system: We can retrofit a wide range of agitator technology and provide you with accessories and spare parts