Behälter KG offre una vasta gamma di serbatoi di stoccaggio orizzontali in pronta consegna. Essi sono particolarmente utili in spazi ristretti o in presenza d'altezze ridotte. Da semplici serbatoi di accumulo fino a grandi serbatoi di stoccaggio, siamo in grado di offrire qualsiasi capacità volumetrica, ordinate per ordine crescente di volume. Serbatoi e Contenitori orizzontali di qualsiasi dimensione.
Items 1-24 of 55
Pagina
You're currently reading page

1
Items 1-24 of 55
Pagina
You're currently reading page

1
Which horizontal tank design variants are common?
The following design types are most common for horizontal tanks & vessels:
Horizontal tanks on leg support: at least 4 solid legs carry the weight of the tank
Horizontal tanks on saddle support: at least 2 semicircular saddles carry the weight of the tank, the saddles are typically loose but fixed to the tank due to the weight load
Horizontal underground storage tanks: tank without supports is positioned underground (e.g. for extinguishing water, rainwater storage or as buffer tank)
Double-wall storage tanks with safety jacket: Compliant with German law (WHG), a double wall surrounds the entire tank, which is filled with control liquid (e.g. used to store hazardous goods such as petrol or fertilizer)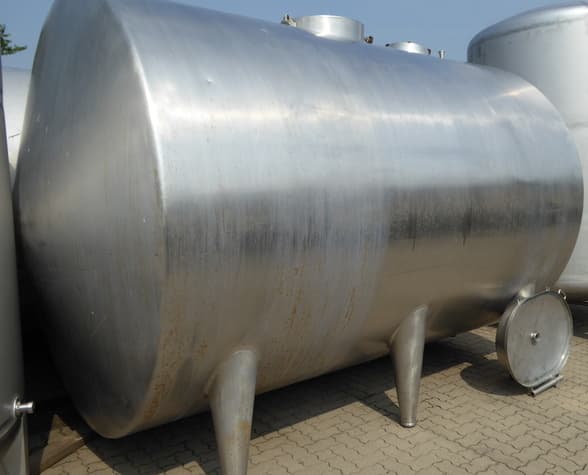 Example of a typical insulated milk tank in horizontal design
Which benefits offer second-hand horizontal tanks?
Our wide range of high-quality used horizontal stainless-steel tanks are instantly available from stock, compared to long delivery times of custom-made tanks. Furthermore, a used horizontal tank can be purchased at a price much lower than a comparable new stainless steel tank.
Especially in case of more complex horizontal tanks, with insulation jacket, agitator or a higher quality alloy, the search for a second-hand horizontal tank pays off, due to an often significant price difference compared to a brand-new tank. Since our used tanks come almost exclusively from production sites in the German-speaking countries and were manufactured by well-known German manufacturers, excellent material processing and manufacturing quality is guaranteed.
Brand new custom-made horizontal tanks & vessels
For special requirements, we also offer custom-made storage tanks made of steel or stainless steel, in which we can look back on 50 years of experience in tank construction. We are happy to make you an offer according to your desired specifications, contact us by using our contact form . Our production spectrum includes all common design variants, such as:
Horizontal stainless-steel tanks, positioned on legs or on saddles (also insulated, pressure-resistant or with agitator)
Horizontal storage tanks according to DIN 6616 for aboveground use (made of mild steel or stainless steel)
Horizontal storage tanks according to DIN 6608 for aboveground use (made of mild steel or stainless steel)
Horizontal storage vessels according to DIN 6616 or DIN 6608 with a leakage jacket for water polluting flammable and non-flammable liquids (made of mild steel or stainless steel)