AIT Containermix: Contenitore di miscelazione
La serie AIT Containermix consente di eseguire processi di agitazione versatili in un robusto contenitore per il trasporto. La tecnologia d'agitazione viene applicata mediante il chiusino superiore rendendola facilmente installabile e removibile. Un chiusino aggiuntivo sul tetto garantisce una maggiore fruibilita´ del prodotto. Su richiesta, possiamo fornire al contenitore una camicia di riscaldamento / raffreddamento ed un rivestimento coibentante adatto per applicazioni alimentari.
Overview AIT Containermix
Transport container with forklift lugs
Round container shape for optimal cleaning
Centric agitator, with additional handhole
Single walled or double walled cylinder
Heat-/cooling jacket: +2 bar
Documentation & EC-declaration
Height adhustable legs
Robust design, galvanized cage
Double effective safety valve made of stainless steel
Robust stainless steel outlet valve
Optional: Insulated / grinded welds / cage made of stainless steel / heatable bottom / tank in AISI316
The AIT Containermix is suitable as a mixing container for almost all industries. Thanks to the robust design in a galvanized frame, a long service life is guaranteed. Only the highest quality components are used in the construction of the mixing containers. Optional with food certificate. Proven Behälter KG quality since 1965.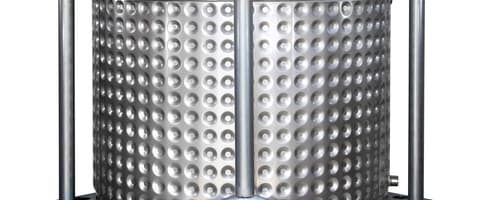 Thermoplate double jacket on the cylinder (optionally also lower bottom)
How is the heating / cooling jacket operated?
The optional Thermoplate double jacket of the AIT Containermix is welded onto the cylinder of the container. Upon request, an additional double jacket can be welded onto the lower bottom of the container. The Thermoplate double jacket has an operating pressure of +2 bar and is equipped with two connections (1" inner thread) for the inlet and outlet of the temperature control medium. The container is designed for cooling with ice water or glycol or for heating with warm water or thermal oil (max. 80 °C). For higher temperatures or heating with steam, we kindly ask you to reach out to our sales team. Please note that the Thermoplate jacket must be connected to an on-site heating / cooling source that is not included in the scope of delivery.
What agitator technology can be installed on the AIT Containermix?
We offer a wide selection of agitators for all common stirring tasks and viscosity levels. For the AIT container mix, this includes the following variants:
High-speed propeller agitator: With the high-speed propeller agitator, low-viscosity media can be mixed turbulently. The speed is approx. 1500 rpm.
Slow-running propeller agitator: With a slow-running propeller agitator, low-viscosity media can be gently homogenized, e.g. Dairy products. The lower speed is made possible by a high-quality geared motor. The speed is approx. 270 rpm.
Blade agitator: With the blade agitator, low-viscosity but also more viscous media can be mixed efficiently and gently, at a speed of approx. 90 rpm.
Cup stirrer: The cone-shaped cup stirrer is ideally suited for gentle homogenization and degassing of demanding media. The speed is approx. 120 rpm.
-Dissolver: The dissolver is our most powerful standard agitator and is equipped with a 5.5 kW motor. At a high speed of approx. 1400 rpm it can be used for dispersion, emulsification or for solids comminution.
Jet-stream mixer: At a high speed of 2800 rpm, the jet-stream mixer enables efficient mixing with short stirring times due to its innovative rotor-stator technology. Additional advantages are the elimination of sedimentation and air-bubbles inside the product.
All our agitators are equipped with PTC thermistors and can therefore also be operated with a frequency converter.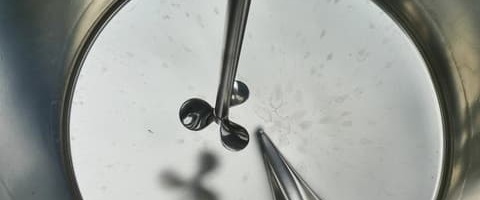 High-speed propeller agitator
Slow-running propeller agitator
Blade agitator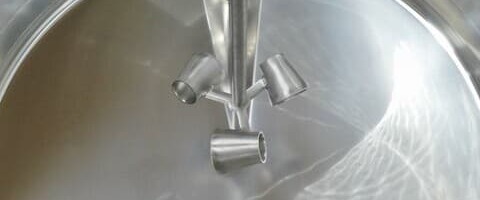 Cup stirrer
Dissolver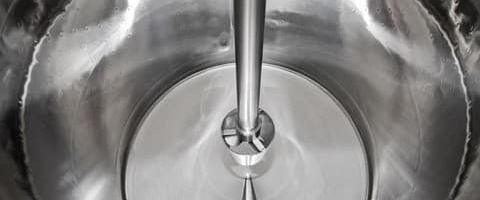 Jet-stream mixer
Do you need a different mixer? No problem, just contact our sales department to request a customer-specific solution.
Can the tank also be operated without an agitator?
The AIT Containermix can also be used as a stacking container, transport container or temperature control container, without agitator. We always deliver the AIT Containermix with an additional manhole cover so that you can close and operate the container reliably even with the agitator removed.
If you are generally interested in brand new IBC / stackable containers without agitator, you can view our product range here. We also offer a large selection of used containers.
Flexible use with or without agitator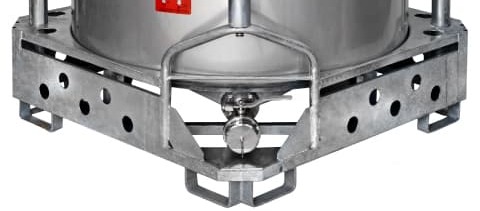 The robust galvanized frame protects the container in everyday life
Additional useful remarks regarding the AIT Containermix
Quality promise: With the AIT Containermix, you choose a high-quality product that we have been supplying to leading production companies across all industries for over 40 years
Customization: We offer custom-made versions of our AIT Containermix, you can choose the desired measurements and technical characteristics (diameter cannot be altered)
Modular system: We can exchange the agitator technology for you anytime and supply you with any spare parts and accessories needed (e.g. sealings)