IBC agitators from Behälter KG can be used universally and are very easy to operate, due to the mobile and robust construction. Designed for flexible stirring, homogenization and dispersion directly in any IBC container. Most IBC mixers are immediately available from stock and can be shipped worldwide.
On which containers can I install the IBC agitators?
Our IBC agitators are designed for 1000-liter intermediate bulk containers (IBC) with the approximate dimensions 1.20x1.00x1.16 meters. The inside is usually made of plastic (HDPE polyethylene), installed in a robust steel grid.
If you are looking for an IBC mixer for a different container size instead, for example for IBC containers with a filling volume of only 600 liters, please contact us. We can provide you with a tailor-made offer for your IBC agitator also upon short notice.
What are the advantages of the agitator support traverse including forklift-openings?
For every IBC stirrer, we optionally offer a support traverse equipped with 2 practical position points for forklift forks. This ensures that the IBC agitator can be quickly and easily installed on the container, without physical strength. Hence, this option is particularly interesting for more powerful agitators with larger motors, as the weight of these agitators can be tricky when handled manually.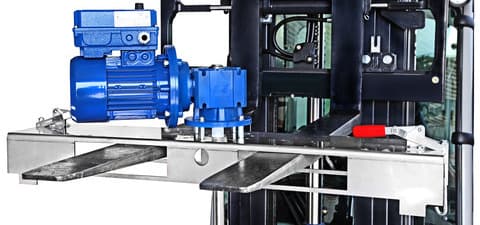 IBC agitator with forklift support traverse
Which IBC agitator is suitable for my stirring process?
Our IBC mixers are used across all industries - from stirring up additives or motor oil in the chemical industry the application fields also include mixing glucose, honey or syrup in food related fields.
To determine which container agitator is most effective for your application, the viscosity of your product is crucial. Viscosity describes the toughness of liquids. Aqueous substances (e.g. antifreeze or petroleum) range from 1 to 600 mPas and viscous substances up to 20,000 mPas. Extremely tough masses such as peanut butter, tomato paste or shortening can even exceed 100,000 mPas.
If you do not have precise information about the viscosity of your product, you can approximate this using various viscosity tables available online. The maximum viscosity level is specified for all our IBC agitators so that you can easily determine the suitability for your application.
How does an IBC agitator work?
All Behälter KG IBC agitators are delivered fully wired and ready to be installed. The robust stainless-steel agitator support traverse (optionally with forklift openings) can be easily mounted centrically on top of the IBC container. Due to the built-in rapid clamping system, the IBC mixer can be assembled or disassembled on your container in just one simple step. As soon as the IBC mixer is installed on the container, you can connect it to the power supply and start to mix the content of the IBC container. Our design sets priorities: a well thought-through and robust construction "made in Germany" in combination with modern stirring technology ensures a long-term customer satisfaction with our IBC agitators.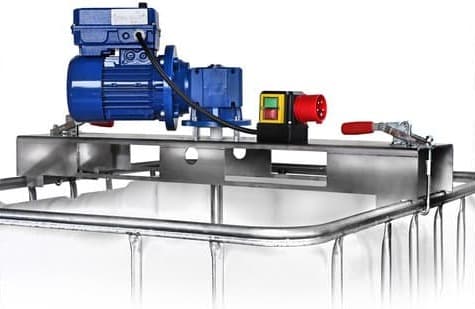 Installation of an IBC agitator on an IBC container
Which design variants of IBC agitators does Behälter KG offer?
In order to satisfy all application fields and budgets, we offer inexpensive fast-moving IBC agitators, but also geared IBC agitators for more gentle mixing at a lower rotational speed.
In addition, each IBC mixer type is also available with a fixed rotational speed, or alternatively with a frequency inverter for stepless and smooth speed control.
We also offer a large selection of different impeller types, each tailored to the size of the motor and gearbox setting. Next to well-known propeller stirrer, we also offer modern and innovative cup stirrers and cross-blade stirrers. Both the cup stirrer as well as the cross-blade stirrer are foldable impellers. This means that the agitator blades open automatically by centrifugal force as soon as they are put into operation in the IBC container.
Our IBC agitators follow our company theme: Excellence in stainless steel. This means that all components in contact with the product are manufactured in stainless steel AISI 316 (V4A). If stainless steel is not stable for your application, we can also offer you a tailor-made plastic coating.
Did you know: for enhanced flexibility, we also offer Tripod agitators that can be used as IBC agitators.