Mild steel pressure vessels
Type examined steel pressure vessels
Behälter KG offers mass-produced pressure vessels made of steel in horizontal and vertical design. Most pressure vessels up to 3000 liters are available at short notice from stock. Our pressure vessels are suitable for all common media such as compressed air, water or nitrogen and are certified in accordance with the Pressure Equipment Directive.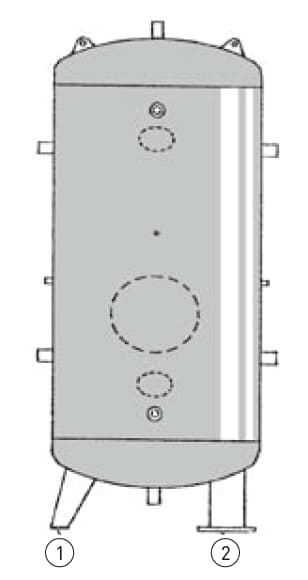 1: Legs up to 5.000 liter
2: Legs from 5.000 liter upwards
horizontal or vertical, pressure vessel regulation AD / HP "on both sides
welded.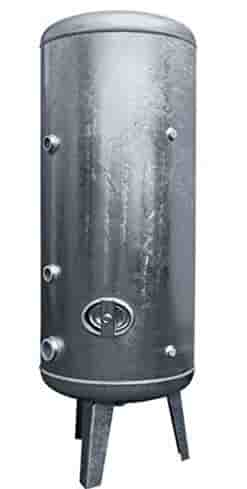 ATTENTION!
Due to the current shortage on the raw material market for steel, the prices are no longer valid. If required, we will be happy to make you an offer with current daily prices.
Please contact us!
Volumen

Pressure

Article number

Ø

H/L
Price ex works
(Liter)
bar
blasted &
primed
galvanized
(mm)
(mm)
blasted &
primed
galvanized
1000
11
80000
80004
800
2.340
1000
16
80002
80006
800
2.340
1500
11
80008
80014
1.000
2.200
1500
16
80012
80020
1.000
2.200
2000
11
80010
80018
1.100
2.470
2000
16
80016
80026
1.100
2.470
3000
11
80022
80028
1.250
2.760
3000
16
80024
80030
1.250
2.760
4000
11
80032
80042
1.400
3.070
4000
16
80036
80048
1.400
3.070
5000
11
80034
80046
1.400
3.680
5000
16
80038
80054
1.400
3.680
6000
11
80044
80062
1.600
3.450
6000
16
80056
80084
1.600
3.450
7000
11
80052
80072
1.600
4.000
7000
16
80064
80088
1.600
4.000
8000
11
80058
80078
1.600
4.450
8000
16
80070
80098
1.600
4.450
9000
11
80066
80090
1.600
5.000
9000
16
80080
80104
1.600
5.000
10000
11
80068
80092
1.600
5.450
10000
16
80086
80106
1.600
5.450