Behälter KG offre una vasta gamma di Contenitori palettizzati di alta qualità e Contenitori IBC per liquidi e prodotti sfusi. Ordinati per capacità in ordine crescente, di seguito troverai una vasta scelta di opzioni sia nuove che usate – Tutti gli articoli sono in pronta consegna e possono essere spediti in tutto il mondo.
Items 1-24 of 87
Pagina
You're currently reading page

1
Items 1-24 of 87
Pagina
You're currently reading page

1
Which stainless steel (IBC) container design variants exist?
Stainless steel containers are globally used for transporting, stacking or storing liquid or bulk materials. Most commonly they are designed to contain 500 - 1000 liters of products inside. Due to their robust construction design, stainless steel containers and IBC containers are characterized by an extremely long lifetime.
While commonly most containers are referred to as "IBC container", it is important to highlight that an Intermediate Bulk Container (IBC), in contrast to a conventional stainless steel container, is compliant with the regulations that are in place for the transport of hazardous goods on the road (UN-approved or ADR-approved). Hence if you plan to transport alcohol, fuel, paint, coatings or other flammable or environmentally hazardous goods – make sure that a container with UN-approval is purchased. The following (IBC) container types are most commonly seen:
cylindrical IBC container (round container): simplified cleaning, therefore often seen for food and pharma applications
cubic IBC container: space-saving design
bulk goods container (silo container): cubic design, with a strongly conical lower bottom (i.e. 50°) and a large outlet valve (i.e. DN250)
aseptic container (also called Zentis-container): designed for sterile applications, often also pressure-resistant
agitated stainless steel container: optimal for mixing directly in the container
double-walled stainless-steel container: flexible temperation though warm water or ice water, optionally with an insulating jacket
electrically heated stainless-steel container: optimal to maintain the required product temperature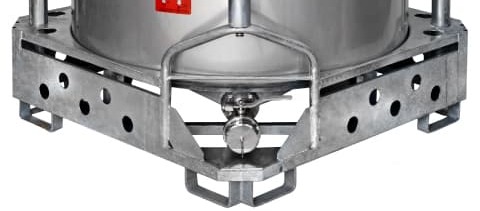 The tank inside the IBC container can be made of different types of stainless steel depending on the medium that needs to be stored. Most commonly the tank is made in AISI 304, whereas the transport frame is made of galvanized steel (for sterile applications often also the frame is made of stainless steel).
Benefits of used containers & IBC
Our wide range of high quality second-hand stainless-steel containers offers you a an immediately available alternative to a new container purchase, at a much more attractive price point.
Primarily for more specific application fields, such as bulk containers with explosion-proof outlet valves, insulated containers or ADR-approved IBC containers in AISI 316 it pays off to find a used container alternative, as these can be available as a fraction of a new custom-made container.
Since stainless steel containers are often heavily used on a regular basis, minor visual defects and dents cannot be prevented. Hence, the difference between a used container and an equivalent new container vanishes within a very short time period.
Our used (IBC) containers and bulk containers are sourced from a wide range of industries. In the food industry they are commonly used for transporting raw materials such as liquid egg, sauces, dressings and fruit puree, whereas in pharma productions they can be used as powder bulk containers and finally in chemical application fields they may be used to store colors, coatings, adhesives or solvents. Due to our large stock of containers, we can make sure to always have a suitable product available for your requirements.
We gladly offer to analyze together with you, with suitable container type we can offer for your application field, considering the previous use of the second-hand equipment. If you are dealing with flammable or hazardous goods, we help you to make sure that your container comes with the necessary certificates and approvals (UN / ADR) that you may require.
Brand new stainless steel containers - standardized product groups
Behälter KG has almost 50 years of operational experience in the serial production of high-quality brand-new stainless-steel containers. This includes the following product types in particular:
PL container: stackable container in robust transport frame (500 - 1500 l)
PLO container: IBC container, stackable, with UN-approval (500 - 1500 l)
PLV container: conical container, stackable, 30° cone angle (600 - 1200 l)
AIT containermix: agitated container, also double jacketed (500 – 1500 l)
All brand-new container types can also be offered with a heating or cooling jacket, insulated and with a suitable agitator. Most types are available directly from stock, otherwise with short delivery times directly from the manufacturing site. We would be happy to make you an offer according to your specifications, simply contact us using our contact form .