Tradition, experience – 50 years in shiny stainless steel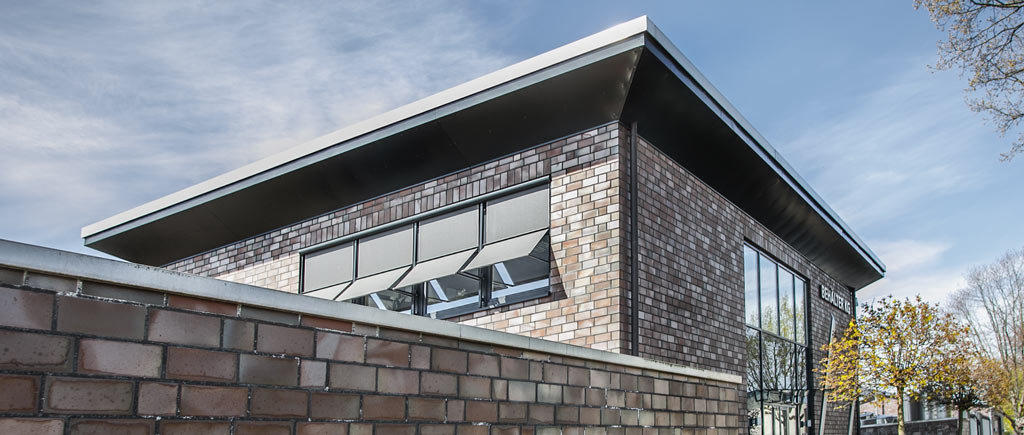 Behälter KG Bremen – international trade of used and brand new stainless steel tanks
A long and traditional, commercial history, typical for Bremen, connects the Behälter KG Bremen with her location Bremen. "buten und binnen – risk and win", as it was called for the first time 1965, was the successful start for trading in tanks.
"We are proud to look back on successful work for more than 45 years". 1989 Mr. Peter Schüler entered the company and 1990 he became managing director of Behälter KG Bremen. Since then he has continued leading the company successfully and established the Behälter KG to a renowned and recognized specialized enterprise all over Europe.
We manufacture according to customer's requirements or supply from our standard programme tanks of the most different type, size and design. Customers from the food,- pharmaceutical and –chemical industry appreciate our competences and the advantage of the immediate availability of "second-hand" tanks or the individual made-to-order production.
Our "second-hand" Tanks"
Apart from the decades of experience in production, we store between 1.000 and 1.500 second-hand tanks in an area larger than 15.000 qm. The tanks, that can be made available at any time, are characterized by an especially attractive price/performance ratio.
Every "second-hand" tank will be already carefully inspected upon purchase and so the quality of our stock is ensured. The material analysis by an X-ray spectrometer as well as the wall-thickness measurement by ultrasonic are important parameters to make a good purchase decision in the segment of "second-hand tanks". The fact that this information is "free of charge" is obligatory for our company and secures your investment.
In addition we offer making copies from drawings up to DIN A0, as far as we have original drawings.
Purchase of used Tanks
Apart from selling tanks we also offer to purchase second-hand tanks. So, expanding the quality of your plants, you can decrease the investment costs with our support. We manage all the steps from dismantling to the transportation up to the further treatment of the tanks. If requested, we support the dismantling on your own with our experienced team.
Original Company Nameplate from 1965
Das Original Firmenschild aus dem Gründungsjahr 1965. Die Behälter KG feierte 2015 das 50zig jährige Bestehen.
Seit den Gründungstagen hat sich das Produktangebot und die Erfahrung in verschiedenen Bereichen ausgeweitet.
Our Product Range and Services
Ständig 1.300 bis 1.600 gebrauchte und werksneue Behälter ab Lager verfügbar
Werksneue Behälter in Standardvariationen und als "Build-to-Order"
Lagerbehälter (gebraucht und werksneu), Druck- und Vakuumtanks, Prozessbehälter, Ansatzbehälter und Stapelcontainer auch in geschliffener und polierter Version
Rührwerksbehälter und Rührwerke
Wärmetauscher und Heizschlangen
Projektplanung im Segment Werksneue
Anfertigung nach Maß (werksneue Behälter) und Sonderkonstruktionen
Ankauf von gebrauchten Behältern
Demontage und Abtransport durch unsere langjährigen Partner
---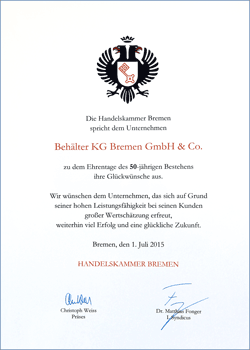 Chamber of Commerce
Fifty years on market
Last stock update: | today in stock: